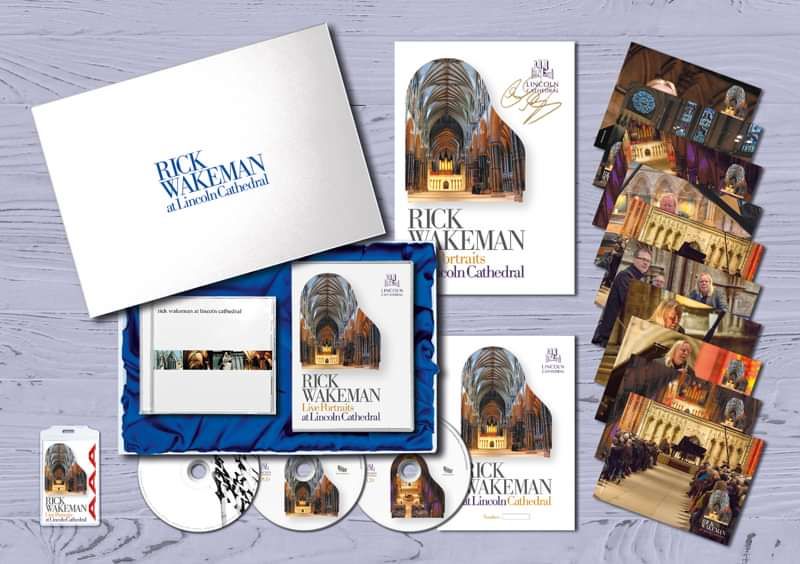 Rick Wakeman at Lincoln Cathedral Box Set
This product is on pre-order and will be released Jun 30
A unique performance by Rick Wakeman, solo on the piano, in the ancient Lincoln Cathedral. The revered musician plays new arrangements of songs he has helped create, as well as a number of personal favorites. Selections include songs by Yes, The Beatles, Cat Stevens, David Bowie, not to mention Tchaikovsky, Debussy and Gershwin! Wakeman discusses each song in this beautifully composed production.
The DVD includes exclusively filmed introductions and bonus material, including outtakes.
First 100 box sets signed by Rick!
Contents Include:
Event Program 10 x Postcards Numbered Certificate Laminate
Live Portraits CD/ DVD
1 Morning Has Broken 03:38 2 And You And I 04:41 3 Summertime 04:17 4 Swan Lake 04:48 5 Space Oddity 05:46 6 After The Ball 05:18 7 Sweet Georgia Brown 02:19 8 Help 03:49 9 Amazing Grace 04:25 10 Wonderous Stories 04:19 11 Merlin The Magician 06:21 12 Life On Mars 03:24 13 Eleanor Rigby 06:23 14 Clair De Lune 03:11
At Lincoln Cathedral CD
1 Soul Mortality 7:03 2 Dance Of The Imps 5:26 3 Gifts From Heaven 5:05 4 The All Mighty Almighty 13:22 5 Dawn And Dusk 5:48 6 The Da Vinci Variations 15:00