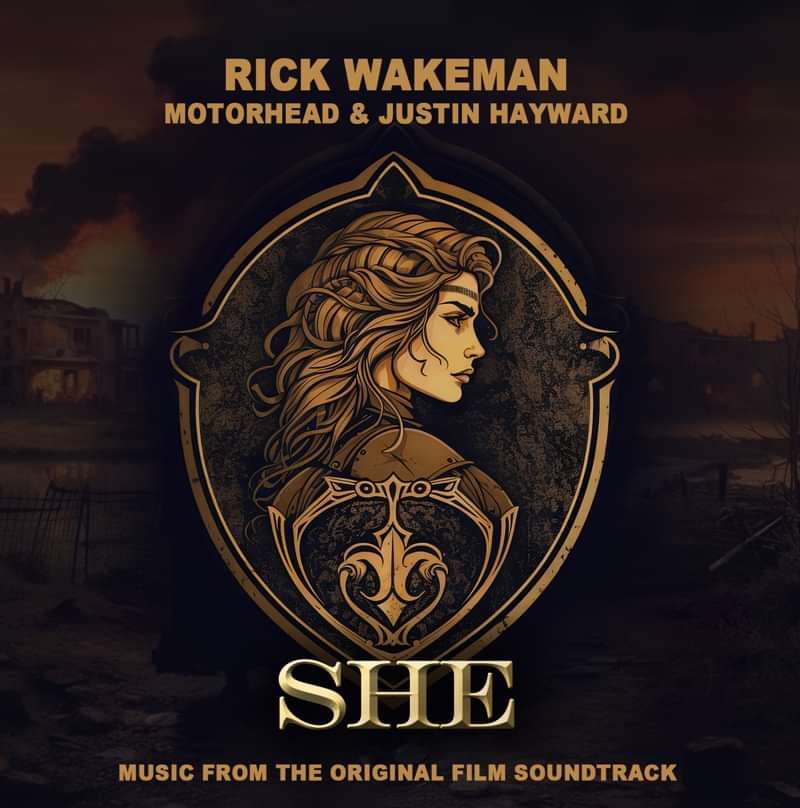 'She' Soundtrack CD featuring Motorhead and Justin Hayward
A sword and sorcery epic loosely based on H. Rider Haggard's 1887 novel. Sandahl Bergman, star of 'Conan the Barbarian' is 'She' – the beautiful warrior queen who rules by the sword in a land wasted by atomic holocaust. Women battle, men are used for ritual sex and sacrifice but the arrival of three strangers plunges 'She' into a nightmare quest for survival. Together, 'She' and her ill-matched companions cross the Forest of Yellow Death to encounter a tribe of innocents by day and man eating werewolves by night and the invincible sailor who literally multiplies when attacked. They make a last stand on Blood Bridge against the master warrior tribe, the Norks who live only for war.
'She' was released in 1984 with a soundtrack that included music by Rick Wakeman, Motorhead, Justin Hayward and Maggie Bell. This release contains Rick's compositions for the movie including many 'work in progress' pieces.
TRACK LISTING
Untitled Theme | She Chant | Torture | Sit Up and Do You Know The Way | Show of World to She Choosing Man | She Arriving For Bundle | Bundle in the Warehouse #1 | Bundle in the Warehouse #2 | Bundle in the Warehouse #3 | She Scene | Into Sunset | Eternal Woman (End Credits) | Off to Nork Mountain and Pool | Off to Nork Mountain | Bundle with Werewolves | Off to Nork Mountains/Godan | Sets Girl Free | Axe in Stomach | Moody Forest | Ballet Dancer | From Smoke | First Bridge Scene | Leaving Banquet | Battle Bells | Preparing For Battle | Untitled #1 | Rescue | Vocals | Wild Guitar #1 | Wild Guitar #2 | Wild Guitar #3 | Motorhead #1 | Untitled #2 | Wild Creepy Strings #1 | Wild Creepy Strings #2 | Wild Choir Version #1 | Wild Choir Version #2 | Flashing Eyes #1 | Flashing Eyes #2 | Flashing Eyes #3 | Flashing Eyes #4 | Flashing Eyes #5 | Flashing Eyes #6 | Bubble Song | Wild Mandolins #1 | Wild Mandolins #2 | Wild Mandolins #3 | Wild Mandolins #4 | Wild Mandolins #5 | Wild Bell Tree